We take care of your projects since 1954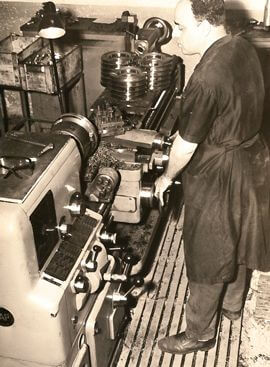 OFFICINA GRAZIOSI was established in 1954 by Romeo Graziosi who started his career as a sub contracting lathe worker, manufacturing generic spare parts and mechanical components for digging machines.
During the following years, thanks to the upcoming new generation of machines, the mere classic turning was progressively implemented with CNC lathes, horizontal and vertical machining centers and, at the end of the past century, we purchased our first CNC 5-axis turning center, which made us enlarge our product portfolio by manufacturing components for endothermic engines, hydraulic and oil-powered machines.
Today, with the third generation, OFFICINA GRAZIOSI has further improved its workshop, which now features almost only 5-axis multi-spindle CNC machines with two tool heads in order to provide always faster delivery time and better quality of complex components, which require high precision processing. We are now able to manufacture components for the electronic and biomedical industry.
The main strengths of OFFICINA GRAZIOSI have consolidated through the years, they mostly concern the great technical proficiency of our workers and the modern machinery which provide us a huge flexibility in manufacturing, an essential aspect to always satisfy our customers in terms of delivery time and product quality.